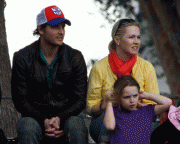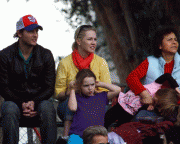 Fitting in a little quality family time, Jennie Garth and Peter Facinelli took their two youngest daughters, Lola and Fiona, to cheer on their oldest girl, Luca, at her soccer game in Woodland Hills, California on Monday (March 1).
According to an onlooker, "the whole family really seemed to enjoy watching the soccer game, and Luca appreciated the support from her family."
After the on-field fun, Miss Garth and Luca were spotted walking to the car, where Luca plopped down in the trunk and carefully took her soccer cleats off while placing them in a plastic bag to keep mom's car nice and clean.
In related news, Jennie just announced that she has signed a two-book deal to begin writing her own children's books - which will target kids aged 3 to 8 and hit bookshelves in 2011.
thanks to
brandheroin